OSCE seminar in Turkmenistan discusses media legislation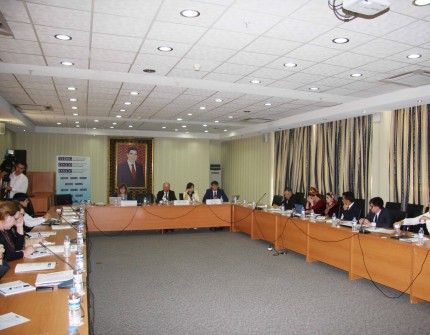 Topical issues of modernizing media legislation in line with OSCE commitments and international standards were the focus of an OSCE-organized event that took place in Ashgabat on 22 and 23 May 2017.
The two-day event was attended by representatives of the Mejlis (parliament), the Supreme Court, relevant ministries, research and educational institutions, as well as Turkemnistan's State Committee for Television, Radio and Cinematography and representatives of the media.
"The OSCE participating States have adopted a number of documents calling them to make efforts to protect freedom of expression and freedom of information in accordance with their international obligations and commitments," stated Natalya Drozd, Head of the OSCE Centre in Ashgabat.
She noted that the OSCE has accumulated valuable expertise in assisting its 57 participating States to live up to their media freedom commitments. "We believe that this seminar will support the efforts of the Government of Turkmenistan to enhance its national media legislation and the OSCE Centre in Ashgabat stands ready to continue and expand co-operation in this important area," Drozd said.
The seminar covered a wide range of topics, including models of media financing, private media and competition. International experts elaborated on approaches to drafting pieces of legislation on broadcasting and their implementation in different countries.
The seminar participants shared views on the legal aspects of broadcasting international sports events and practices of their coverage.