Ambassador of the Hellenic Republic handed copies of his credentials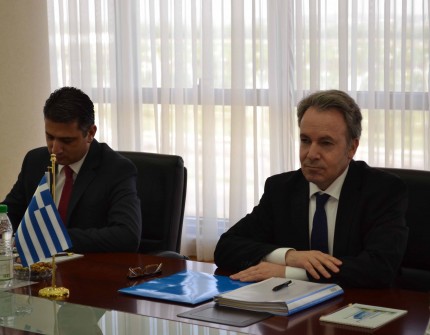 On May 23, 2017, at the Ministry of Foreign Affairs there was a meeting with the new Ambassador Extraordinary and Plenipotentiary of the Hellenic Republic to Turkmenistan (with the residence in Moscow) Mr. Andreas Friganas, who arrived in Ashgabat on a working visit.
At the beginning of the meeting, the Ambassador presented the copies of his credentials. Then, during the talks, expressing readiness for the activation of Turkmen-Greek relations, the sides discussed issues of mutual interest. During the consideration of the prospects for further cooperation in various fields, the parties expressed their commitment to further development of cooperation in the political-diplomatic sphere, as well as within the framework of international organizations. Also, mutual interest was expressed in the development of relations between the scientific circles of the two countries as well as in the fields of culture, tourism and sports.
Discussing the trade and economic cooperation bloc, the sides noted the need to expand the legal framework between the two countries and agreed to consider ways to intensify contacts between the business structures of the two countries. Discussing the issues on the international agenda, the Greek side expressed interest in studying Turkmenistan's practice regarding refugee issues.
Noting the focus on fruitful and effective cooperation, the Turkmen side expressed its readiness to render every assistance and support to the Ambassador's activities in the expansion of Turkmen-Greek relations.