Ashgabat hosted a meeting of the co-chairs of the Intergovernmental Turkmen-Russian Commission on Economic Cooperation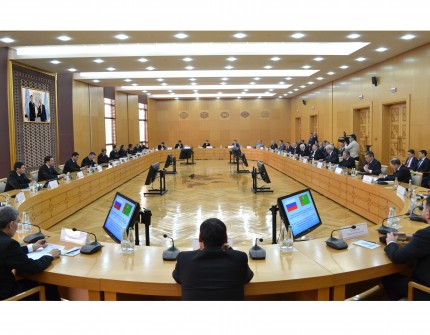 Today, on April 9, a meeting was held between the Deputy Chairman of the Cabinet of Ministers, Minister of Foreign Affairs of Turkmenistan Rashid Meredov and the Deputy Chairman of the Government of the Russian Federation Alexei Overchuk, who arrived in the Turkmen capital on a working visit. The talks were held in narrow and extended formats.
The meeting in an expanded format was also attended by the heads and representatives of a number of ministries and departments of leading sectors of the economy of Turkmenistan and Russia.
During a constructive conversation, R. Meredov and A. Overchuk stated that the current visit of the Russian delegation to Turkmenistan testifies to the high level of bilateral strategic cooperation.
In this context, the need for further development and strengthening of bilateral ties in the political-diplomatic, trade-economic and cultural-humanitarian spheres was expressed. The positive experience of interaction within the framework of authoritative international and regional organizations was especially emphasized. The interlocutors also touched upon issues related to the development of the legal framework for cooperation.
The important role of the Intergovernmental Turkmen-Russian Commission on Economic Cooperation in the development of bilateral trade and economic cooperation was emphasized. In this context, cooperation in the field of energy, gas chemistry, industry, transport, logistics, trade, machine building, agriculture and other promising areas of mutual interest of the parties have become priority topics of the current negotiations.
During the current meeting, a presentation of the strategic vectors for the development of the EAEU until 2025 was also held. The priorities of partnership in the banking sector, in the field of land cadastre, tax administration were also discussed.
The parties highly appreciated the dynamics of bilateral trade turnover. Speaking about the indicators of the growth of trade and economic ties, the parties considered promising areas for mutually beneficial cooperation. In this regard, the active development of contacts between Turkmenistan and the regions of the Russian Federation was especially noted.
Noting the huge mutual potential in the cultural-humanitarian direction, the parties agreed to continue to pay close attention to expanding an active dialogue in the field of education, science and culture.