The Ambassador of the Republic of South Africa presented copies of the credential letters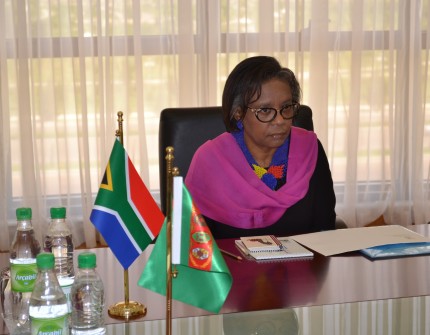 On June 27, 2017, at the Ministry of Foreign Affairs of Turkmenistan there was a meeting with the new Ambassador Extraordinary and Plenipotentiary of the Republic of South Africa to Turkmenistan (with residence in Astana) Mrs. Keitumetsi Seipelo Thandeka Matthews, who arrived in Ashgabat to present the copies of her credentials.
During the meeting the sides exchanged views on the current state of relations between Turkmenistan and the Republic of South Africa. The dynamic development of the political dialogue was noted. Underlining the prospects for the development of relations across a wide range of areas, the parties discussed the possibilities for developing cooperation in the energy sector, in the areas of water management and the textile industry.
Speaking about cultural and humanitarian cooperation, the sides noted the interest in developing relations in the spheres of science and education, including the training of medical personnel. Noting the date of the 25th anniversary of the establishment of diplomatic relations between Turkmenistan and the Republic of South Africa, the sides put forward proposals for organizing joint events timed to this event.
The head of the Turkmen delegation informed about the international events planned to be held this year in Turkmenistan and invited the South African side to participate in the opening ceremony of the 5th Asian Indoor and Martial Arts Games, as well as in the 28th session of the Energy Charter Conference.