Meeting with the Head of the Autonomous Territorial Unit of Gagauzia in Moldova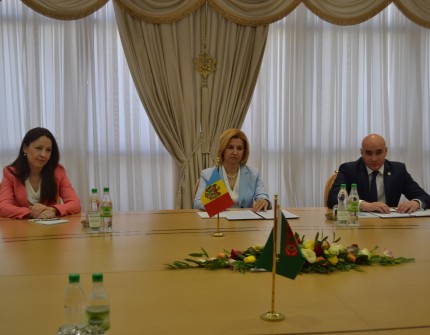 On June 28, 2017, in the building of the Ministry of Foreign Affairs of Turkmenistan, a meeting was held between the Minister of Foreign Affairs of Turkmenistan R. Meredov and the Head of the Autonomous Territorial Unit of Gagauzia in Moldova Mrs. Irina Vlah.
Expressing hope for further impulse in expanding cooperation between Turkmenistan and ATU Gagauzia of the Republic of Moldova, the sides exchanged views on bilateral cooperation and expressed their commitment to continue the dialogue that had developed at a high level. The parties expressed interest in developing interregional cooperation.
Having highly praised and thanked Turkmenistan for the construction of a social facility in ATU Gagauzia, Ms. Vlah noted the positive dynamics of the development of trade and economic relations. Speaking about the interest of the companies of ATU Gagauzia in the development of trade relations and activation their participation in the Turkmen market, informed about the export potential of ATU Gagauzia.
The parties discussed the possibilities of developing cooperation in the energy sector. The Turkmen side informed about the current state of the energy sector, in particular, the development of the gas-chemical and oil-refining industries of the country.
The parties agreed to continue joint work to expand cultural and humanitarian ties by organizing various activities to enhance this area of ​​cooperation.