Meeting at the MFA of Turkmenistan with the UN OHCHR Regional Representative for Central Asia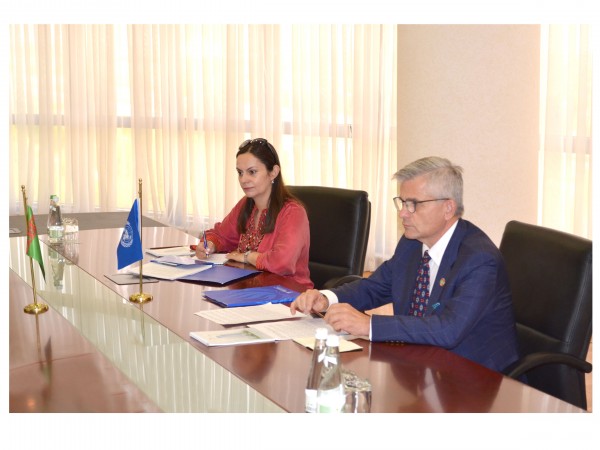 On July 21, 2022, the Deputy Minister of Foreign Affairs V. Hajyiev met with the Regional Representative of the Office of the United Nations High Commissioner for Human Rights for Central Asia, Richard Komenda, at the Ministry of Foreign Affairs of Turkmenistan.
During the meeting, the parties discussed the development of cooperation between Turkmenistan and the UNHCHR, including the implementation of the obligations assumed and the implementation of the provisions of human rights conventions to which Turkmenistan is a party.
Issues of the activities of the Interdepartmental Commission to ensure the implementation of Turkmenistan's international obligations in the field of human rights and international humanitarian law were discussed. The readiness of the country to participate in the processes to improve the capacity of the Ombudswoman institution, the introduction of educational programs and the holding of regional events was noted.
V. Hajyiev stressed that an important aspect of joint activities is the preparation of reports and accounts to the UN treaty bodies. This year, Turkmenistan will have to send regular reports on the implementation of the recommendations of the relevant Committees on two documents: the Convention on the Elimination of All Forms of Discrimination against Women (CEDAW) and the Convention on the Rights of Persons with Disabilities (CRPD).
As part of the visit to Turkmenistan, meetings were also held between the OHCHR Regional Representative for Central Asia, Richard Komenda and the office of the Ombudswoman of Turkmenistan, the Ministry of Education, the Ministry of Internal Affairs and the Institute of State, Law and Democracy of Turkmenistan.