Ashgabat hosted the first Universal Exhibition of Goods of the People's Republic of China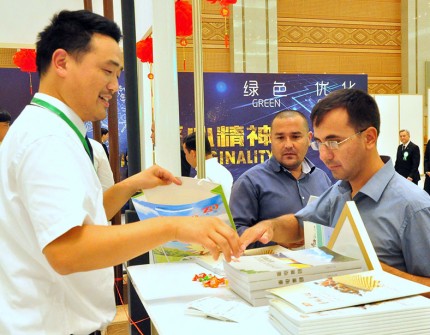 On July 4, 2017 Ashgabat has hosted the first Universal Exhibition of Goods of the People's Republic of China, which was organized by the Chamber of Commerce and Industry of Turkmenistan jointly with the Ministry of Commerce, the Committee for Promotion of International Trade and the Government of Xinjiang - Uyghur Autonomous Region of the People's Republic of China. The specialized show is held as part of events marking the 25th anniversary of establishing diplomatic relations between Turkmenistan and China.
The exhibition in Ashgabat was attended by the delegations of the heads and specialists of about seventy companies and firms, representing the industrial potential of various regions of China. The long-standing partners of our country included the First Chinese Automobile Corporation (FAW), the China National Petroleum Corporation (CNPC), the manufacturer of equipment for the oil and gas industry "Jeren" Company, the largest partner in the field of telecommunications and information technology "Huawei", as well as TVEA Group Corporation, the world's leader in the production of powerful electronic transformers for power supply systems. A majority of exhibitors for the first time represent their capabilities and advanced technologies in Turkmenistan.
In an exhibition hall of the Chamber of Commerce and Industry, large multi-sector companies and enterprises of narrow specialization, as well as leading international trade exporting and importing agencies in China, exhibited their stands. They included manufacturers of electrical equipment, new energy-saving lamps and lighting systems, aluminum profiles, unmanned aerial vehicles for the needs of agriculture of the company, accessories for beverages, cosmetics and perfumes, tableware and kitchen utensils and the high-quality industrial textiles and carpets.
A separate section of the exhibition was represented by the production of the food industry of China, produced on the basis of advanced scientific technologies and national cultural traditions of the Chinese people.
The exhibition will be open till July 6.