Humanitarian cargo from Turkmenistan arrived in the Islamic Republic of Pakistan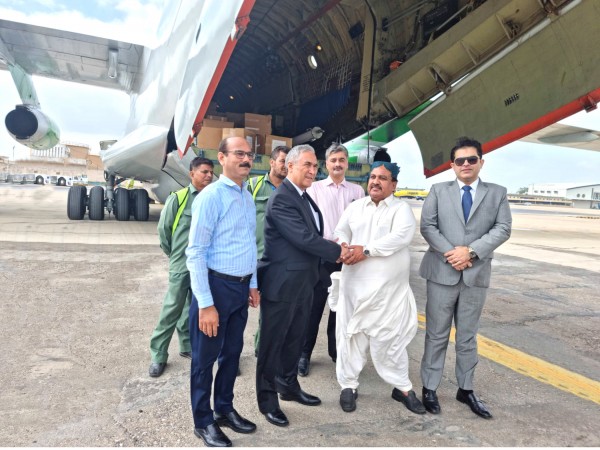 On September 5, in the morning, a Turkmen Il-76 cargo airliner carrying humanitarian cargo landed at the airport in Karachi, Sindh province of the Islamic Republic of Pakistan.
In accordance with the Order of the President of Turkmenistan Serdar Berdimuhamedov, in order to provide humanitarian assistance to the friendly Pakistani people in the context of the recent natural disasters in the Islamic Republic of Pakistan, which led to numerous casualties and large-scale destruction, the relevant medicines and medical supplies, goods and food as humanitarian aid were transferred to the Pakistani side.
The ceremony of receiving humanitarian aid from Turkmenistan at the airport in Karachi was attended by Special Assistant and Advisor to the Chief Minister Sindh for Relief and Rehabilitation Haji Rasool Bax Chandio, Deputy Director of the National Disaster Management Authority of Pakistan Waseem Ahmed, representatives of the Ministry of Foreign Affairs and Pakistani media.
Speaking during the ceremony, Pakistani officials expressed sincere gratitude to the leadership and people of Turkmenistan for the timely and urgently needed humanitarian assistance to the flood-affected population of the country.