Telephone conversation between the President of Turkmenistan and the President of the Republic of Uzbekistan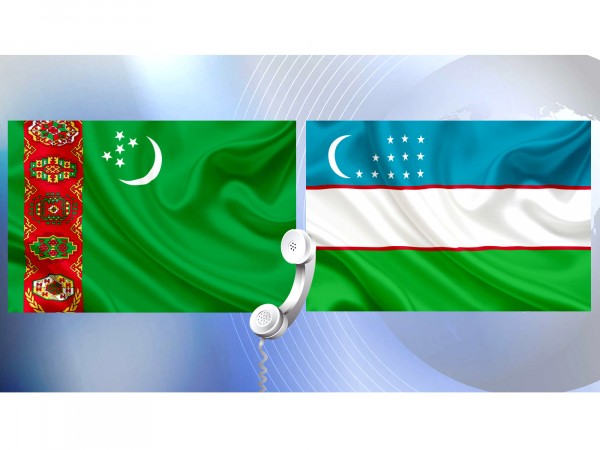 On September 22, 2022, a telephone conversation took place between the President of Turkmenistan Serdar Berdimuhamedov and the President of the Republic of Uzbekistan Shavkat Mirziyoyev.
The head of the friendly country cordially congratulated the head of Turkmenistan on his birthday, wishing him good health, longevity and success in his multifaceted activities in the highest state position, aimed at the dynamic socio-economic development of the Fatherland, ensuring a prosperous life for the people.
Expressing sincere gratitude for the kind words and wishes, President Serdar Berdimuhamedov stressed that he remembers with great warmth the meeting on the sidelines of the Samarkand Summit of the Shanghai Cooperation Organization, successfully held by fraternal Uzbekistan at a high international level. Such meetings provide an opportunity to discuss topical issues of interaction and exchange views on its promising areas.
As noted, Turkmenistan highly appreciates the development of relations with the Republic of Uzbekistan and attaches great importance to comprehensive relations with a close neighbor and reliable partner. It was stated that in recent years, cooperation between the two states has reached a qualitatively new level.
President Serdar Berdimuhamedov stressed that the interstate dialogue between our countries is constructive and open, and the confidential nature of the negotiations contributes to uniting efforts to solve urgent problems.
It was noted that Turkmenistan and the Republic of Uzbekistan are successfully cooperating both in bilateral and multilateral formats, primarily within the framework of the UN and the CIS.
Touching upon the topic of trade and economic partnership, the leaders of the two countries noted with satisfaction the progressive dynamics of its development in a wide range of areas - agriculture, power industry, oil and gas complex, chemical industry, etc. At the same time, the importance of recently intensifying business contacts between business circles was noted.
During the conversation, President Serdar Berdimuhamedov also emphasized the great personal contribution of President Shavkat Mirziyoyev to the development of good neighborly relations between Turkmenistan and the Republic of Uzbekistan.
Thanking once again for the warm congratulations and good wishes on the occasion of his birthday, the head of Turkmenistan wished the Uzbek leader good health and further success in his responsible state activities, and peace, well-being and prosperity to the friendly Uzbek people.