Participation of the delegation of Turkmenistan in the High-Level Conference on Terrorism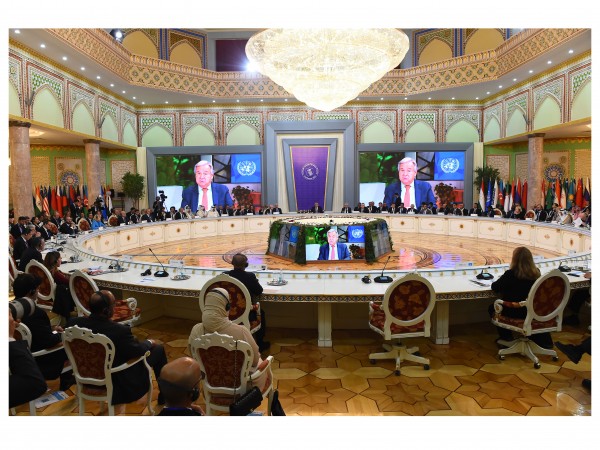 The delegation of Turkmenistan, has been paying a visit to Dushanbe from October 17 to 19, 2022, headed by the Deputy Minister of Foreign Affairs Vepa Hajiyev participated in the High-Level International Conference "International and Regional Cooperation in the Field of Border Security and Border Control to Combat Terrorism and Prevent Movement terrorists".
At the opening ceremony of the Conference speeches were made by the President of the Republic of Tajikistan E.Rahmon, UN Secretary-General A.Guterres, Under-Secretary-General of the United Nations, Head of the UN Office of Counter-Terrorism Vladimir Voronkov, as well as other high-ranking officials of the Central Asian states, partners from other regions and authoritative international organizations.
In his statement V.Hajiyev stressed the need for a systematic approach to multilateral cooperation in the fight against terrorism, raising the level of coordination of joint actions, and continuous exchange of information. In particular, the relevance of the adoption in March of this year of the Updated Joint Plan of Action on Countering Terrorism was noted, being a significant contribution to the implementation of the Global Counter-Terrorism Strategy, which was first announced in the Ashgabat Declaration of November 30, 2011.
At the same time, the consolidation of global efforts aimed at combating the terrorist threat should be carried out with the coordinating role of the UN, in particular, its Counter-Terrorism Directorate.
In this context, the relevance of establishing a permanent program office of the UN Counterterrorism Office in the Central Asia region was especially emphasized, which would reduce the operational and office costs of the UN system, increase the efficiency of technical assistance to the countries of the region, and strengthen regional inter-institutional coordination.
A proposal was also put forward to further intensify the joint efforts of the parties in information technology and cyberspace, to strengthen the existing dialogue platforms, deliberative platforms using the project potential.