Aspects of Turkmen-American cooperation discussed at the Ministry of Foreign Affairs of Turkmenistan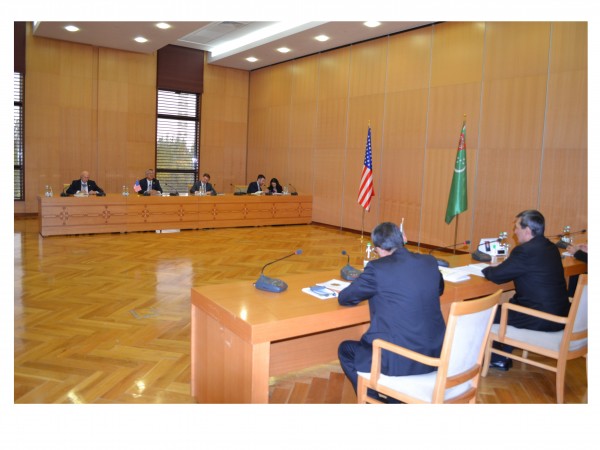 On November 7, 2022, in the Ministry of Foreign Affairs of Turkmenistan was held a meeting between the Foreign Minister Rashid Meredov and the US delegation headed by Assistant Secretary of State, Bureau of South and Central Asian Affairs of the US Department of State Donald Lu.
The parties considered a wide range of issues of Turkmen-American cooperation, as well as touched upon international and regional topics, including issues of the Afghan problem.
During the talks, it was noted that bilateral cooperation between the countries has been actively and dynamically developing, based on the principles of openness, mutual respect and understanding.
The diplomats discussed the effectiveness of the partnership in the "Central Asia - USA" (C5+1) format, and also emphasized the effectiveness of the held Turkmen-American political consultations.
The mutual commitment of the parties to the further development of trade and economic ties was confirmed. At the same time, the parties noted the importance of intensifying the work of the Turkmen-American Business Council.
Joint activities in the fields of science, education, healthcare and culture were singled out as the one of the important directions of bilateral relations, within which a number of programs and projects are being implemented.
Attention was also paid to environmental issues, including climate change issues and reduction of methane emissions.
The parties noted the existing potential of bilateral cooperation in the field of healthcare and medical science.
Upon completion of the negotiations, a Memorandum of Understanding between the Government of Turkmenistan and the US Government on cooperation in the field of healthcare and medical sciences was signed.