On meeting of the Dialogue on Human Rights "Turkmenistan - European Union"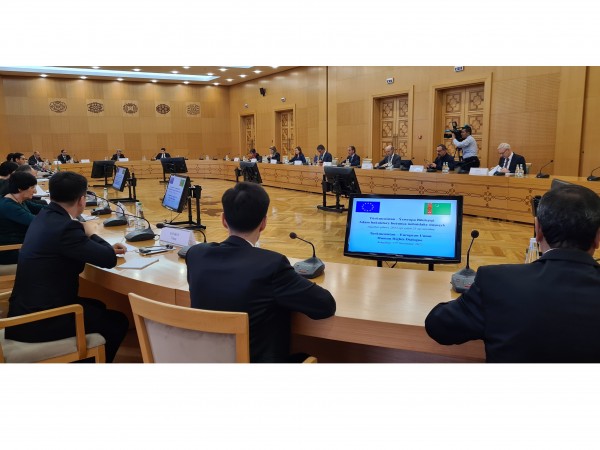 On November 25, 2022, in the Ministry of Foreign Affairs of Turkmenistan was held the 14th meeting of the Human Rights Dialogue "Turkmenistan - European Union".
The meeting was attended by the heads and representatives of the relevant ministries and state agencies of the country, including the Mejlis of the Milli Gengesh of Turkmenistan, the Ombudsman of Turkmenistan, the Ministry of Foreign Affairs, Internal Affairs, Agriculture and Environmental Protection, the Institute of State, Law and Democracy, etc.
The European side at the meeting was represented by representatives of the European External Action Service, the Ambassador of the European Union in Turkmenistan and the heads of European diplomatic missions accredited in Turkmenistan.
During the meeting, issues of expanding cooperation between Turkmenistan and the EU in the field of human rights and international humanitarian law were discussed. An exchange of views took place on such issues as the development of civil society, the rule of law and judicial reform, as well as the development of a "green" economy and digital technologies, cooperation in the field of education and healthcare, gender equality and the disabled, protection of children's rights and other areas.
During the dialogue, the participants paid attention to the comprehensive promotion of economic, social and cultural rights of people within the framework of international and local documents, including the National Action Plan for Human Rights for 2021-2025 and the National Strategy of Turkmenistan for Early Childhood Development for 2020-2025 and others.
The Turkmen side informed about the international cooperation of Turkmenistan in the field of human rights, in particular, with specialized international organizations, including within the framework of the implementation of international conventions in this area.
The positive dynamics of organizing joint events in the recent time in Turkmenistan was noted. It was also emphasized that this year has become saturated with events within the framework of the "Central Asia - EU" format. In this context, the Turkmen side put forward initiatives to hold a number of events within this format, in particular, it was proposed to hold a Dialogue of Women of Central Asia and the European Union.
During the negotiations, the parties outlined the expediency of expanding cooperation between Turkmenistan and the EU within the framework of multilateral forums and international organizations, and exchanged views on the further implementation of joint projects.