Meeting with the Deputy Minister of Foreign Affairs of Japan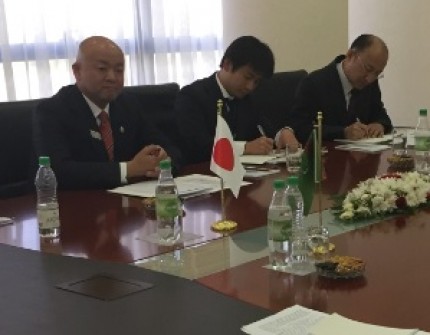 On September 18, 2017, there was a meeting between the Minister of Foreign Affairs of Turkmenistan R. Meredov and the Deputy Foreign Minister of Japan on parliamentary issues, Mr. Hori Manabu, who arrived in Turkmenistan to participate in the opening ceremony of the 5th Asian Indoor and Martial Arts Games.
At the beginning of the meeting, Mr. Hori Manabu congratulated Turkmenistan on the successful holding of the opening ceremony of the 5th Asian Games.
During the meeting, the parties discussed the state and prospects of the development of bilateral political cooperation. Among the priority areas of cooperation the sides discussed issues of cooperation within the framework of international organizations, primarily the UN. The Turkmen side thanked Japan for co-sponsoring the Joint Statement "On Encouraging the Valuable Contribution of Olympic refugee teams in strengthening peace and human rights", adopted on September 15, 2017 at the 36th session of the UN Human Rights Council, and held in Geneva, Switzerland, on the initiative of the Government of Turkmenistan.
Speaking about trade and economic cooperation, the parties discussed the possibilities of activating joint contacts, taking into account the raising of the relations in this direction to a qualitatively new level. It was also noted that in recent years, Turkmenistan and Japan have established a solid legal framework, which is the basis for the development of trade and economic relations.
Discussing the cultural and humanitarian component of the relationship, the parties expressed their commitment to developing cooperation in the field of tourism, science and education.
At the end of the meeting, the sides noted the great potential for building Turkmen-Japanese relations and stressed the need for continued support of regular contacts at various levels.