Refugee athletes team thank Ashgabat 2017 Games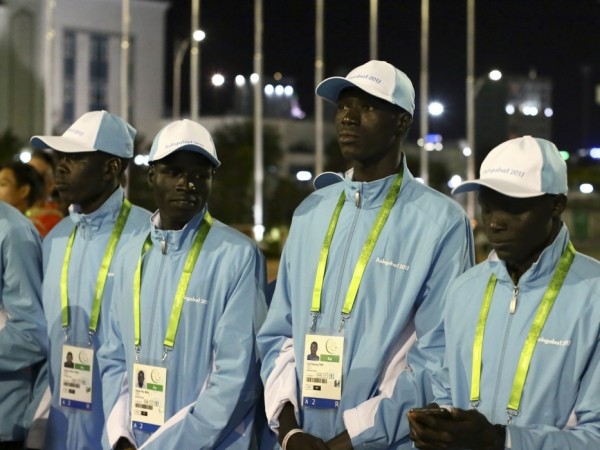 Members of the Refugee Team who participated in the Ashgabat 2017 5th Asian Indoor and Martial Arts Games have expressed hope that more global competitions will open their doors for them in the future.
Five athletes – Paulo Amotun Lokoro, Wiyual Puok Deng, Gai Nyang Tap, Ukuk Uthoo Bul and Yiech Pur Biel – were selected for Ashgabat 2017 following trials organised by the Tegla Loroupe Peace Foundation in Nairobi, Kenya.
Biel, who reached the semi-finals of the men's 800m, said the experience meant a lot to him and thanked the 5th AIMAG Executive Committee. "This was my second major event after the 2016 Rio Olympics. Being at Rio and Ashgabat proved that we, as refugees, could do something in this world," he said. "Sport opened many doors for us. It gave us new hope where there was none. "We did not know much about Turkmenistan, but now identify them as very kind hosts. We would like to return here for more events in the future," said Biel.
The team's Chef de Mission Tegla Loroupe, a three-time half-marathon world champion and triple Olympian from Kenya, requested that more big sporting events welcome refugee athletes with open arms.
"While athletes from Africa and other continents can fly to any part of the world to compete, refugees cannot do so. But it is amazing how sport has helped them," said Loroupe.
"I hope other organizers of major events will open their doors to refugee athletes so that they can compete at the highest levels. "It need not be limited to track and field alone. There are so many talented sportsmen and women in other disciplines like taekwondo and karate. "Hopefully, they will all open up to the idea of refugee participants."
Bul who reached the men's 3000m final and finished seventh, said they needed continued support from the International Olympic Committee (IOC).
"The IOC has been helping us a lot in the past," he said. "They gave us the opportunity to compete in Rio. "We now need them more than ever and I hope their help will continue.
Loroupe said her wards would set their bars higher at the 2020 Olympic Games in Tokyo. "The Rio Games was just the beginning. In 2020, our aim is for refugee athletes to enter a few finals and maybe even win a medal. It is not impossible," she said.