Turkmen-Russian talks were held at the MFA of Turkmenistan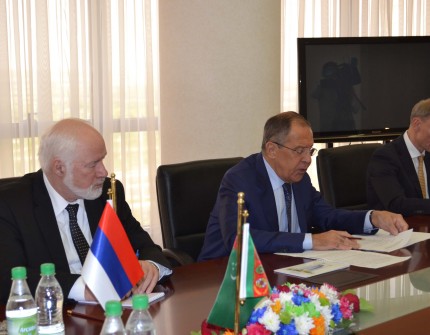 On October 2, 2017, Ashgabat hosted a meeting between the Minister of Foreign Affairs of Turkmenistan R. Meredov and the delegation of the Russian Federation headed by the Minister of Foreign Affairs of the Russian Federation Sergey Lavrov, who arrived in Ashgabat a day before.
During the talks, noting the high dynamics of the political interstate dialogue, the sides discussed the current state of relations and exchanged views and proposals on the development of a complex of bilateral relations in the political-diplomatic, trade-economic and cultural-humanitarian spheres. Expressing satisfaction with the mutual support of international initiatives in various international organizations, the sides noted the need for further development of relations in this direction. An exchange of views took place on the issues of rendering assistance to the Islamic Republic of Afghanistan and the Caspian issues.
A range of issues related to the strengthening of bilateral trade and economic relations was also considered. Particular attention was paid to the development of cooperation in the energy and transport spheres.
Among the areas of joint cooperation of mutual interest was also noted the cultural and humanitarian sphere, in particular cooperation in science, education and sports.