"Turkmenistan – the heart of the Great Silk Road": dialog of times and civilizations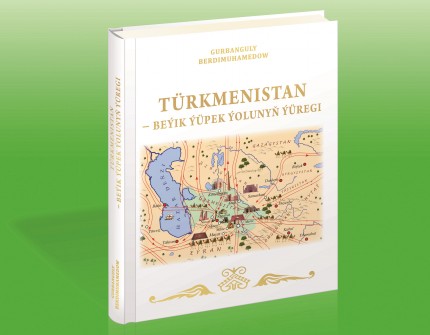 On October 20, 2017, the presentation of new book by President Gurbanguly Berdimuhamedov "Turkmenistan – the heart of the Great Silk Road" took place in Mukams Palace of the capital. Members of the Government, representatives of diplomatic missions and international organizations accredited in our country as well as public and mass media representatives and youth took part in the event.
The name of new work of the Head of the State "Turkmenistan – the heart of the Great Silk Road" chosen by Turkmen citizens at the Council of Elders as a slogan of 2018, reflects the concept of modern development of the country based on historical experience, traditions of peace-making and good neighborliness, respect of spiritual heritage, desire for regional and global integration and progress.
The main idea of the book is the understanding of initiative and creative position of neutral Turkmenistan in international arena through the prism of its history. Multi aspect analysis of civilization phenomenon of the Great Silk Road, which has played great role in development of economic, diplomatic, scientific and cultural connections between the East and the West, stipulates the role of Turkmenistan that has favorable geopolitical location in integration processes of the present.
The UN Permanent Representative in Turkmenistan Elena Panova highlighted the importance of new book by President Gurbanguly Berdimuhamedov published in three languages in the context of understanding by wide reading auditory including the foreign one, the meaning of democratic, social and economic changes in the country as well as international initiatives of the Head of the State.
Executive Secretary of Turkmenistan National Commission on UNESCO affairs Guvandyk Polatov noted the importance of new edition in popularization of spiritual, historical and cultural component of the Great Silk Road phenomenon, particularly its Turkmen part where great monuments like Ancient Merv, Kunyaurgench and Parthian strongholds of Nisa, which are registered in the World Heritage List, are located.
The Great Silk Road has played huge role in dialog of two great civilizations of the East and the West. It were not only the goods but also knowledge that have been spread by caravan routes; active exchange of culture, spiritual values, discoveries, practices and craft secrets has also taken place. Economic diplomacy formed back then became an important tool in achievement of understanding, political consensus and progress.