Negotiations at the Ministry of Foreign Affairs of Turkmenistan with the Delegation of the Islamic Development Bank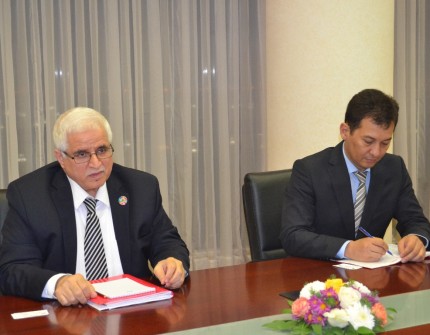 On November 13, 2017, at the Ministry of Foreign Affairs of Turkmenistan held talks with the Regional Director of the Islamic Development Bank for Central Asia, Mr. Hisham Taleb Maruf, who arrived in Ashgabat to participate in the VII Ministerial Conference on Regional Economic Cooperation for Afghanistan (RECCAVII).
During the meeting, expressing hope for a fruitful result of joint work within the framework of RECCAVII in the reconstruction of Afghanistan, as well as sustainable development in the Central Asian region, the sides exchanged views on the issues of the regional agenda.
Having discussed the current state of relations, the sides considered the possibilities for further development of cooperation within the framework of the Work Program for Turkmenistan for the period 2016-2018. Noting the issues of cooperation in the transport and communication sphere and the area of ​​support for small and medium-sized businesses, the parties made a brief overview of the joint work for this period.
At the end of the meeting, the sides noted the hope for further successful development of bilateral cooperation on a mutually beneficial basis and expressed their commitment to further consolidation of efforts.