Turkmenistan and Malaysia discussed issues of intensification of cooperation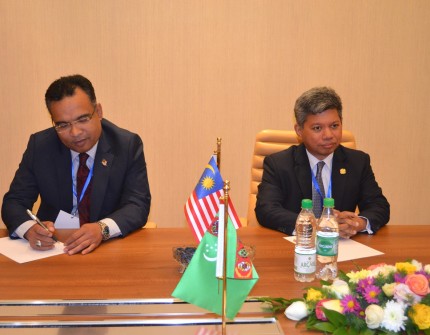 On November 14, 2017 in Ashgabat, the Minister of Foreign Affairs of Turkmenistan had a meeting with the Deputy Secretary General of the Ministry of Foreign Affairs of Malaysia, Raja Nushirvan bin Zainal Abidin, who arrived in Turkmenistan to participate in the VII Regional Economic Cooperation Conference on Afghanistan (RECCA VII).
During the meeting, speaking of active cooperation in the international arena, the sides identified important areas of relations between Turkmenistan and Malaysia. In this context, the Deputy Secretary-General of the Ministry of Foreign Affairs of Malaysia noted the relevance of the initiatives of the President of Turkmenistan Gurbanguly Berdimuhamedov to ensure security, stability, peacekeeping and sustainable development and expressed adherence to the foreign policy course of the country.
Also, within the framework of the meeting, the parties discussed the issues of further building up mutual cooperation. Taking into account that the main direction of bilateral relations is the fuel and energy sector, the parties expressed the need to develop the dynamics of bilateral relations in the economy by creating new formats for cooperation.
Noting Turkmenistan's interest in ensuring the security, peace, stability and sustainable development in Central Asia and Afghanistan, the parties noted the role of the country's neutral status.
It was noted that Turkmenistan is a supporter of ensuring peace in Afghanistan and advocating for its economic development through political and diplomatic methods. The parties expressed hope for the fruitful results of the RECCA VII meeting, which will serve to create effective mechanisms at the regional and international levels.