Meeting with the Director of the USAID Regional Mission for Central Asia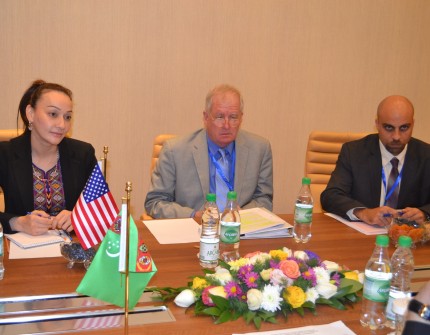 On November 14, 2017 in Ashgabat, the Minister of Foreign Affairs of Turkmenistan R.Mededov had a meeting with the delegation of USAID headed by the Director of the USAID Regional Mission for Central Asia, K.Edwards, who arrived in Turkmenistan to participate in the VII Regional Economic Cooperation Conference on Afghanistan (RECCA VII).
During the talks, the sides discussed the expansion of cooperation between the Government of Turkmenistan and the United States Agency for International Development (USAID) and noted the need to bring them to a new level. It was noted the need to develop a work plan for the future period of cooperation. Having made a brief overview of joint activities, the sides made proposals on developing partnerships with state institutions of Turkmenistan by implementing a number of joint projects. .Among the areas of mutual interest were the spheres of energy, economy and investments.
Noting Turkmenistan's interest in ensuring the security, peace, stability and sustainable development in Central Asia and Afghanistan and the existing positive experience of a clear strategy of the country in this direction, proposals were expressed to consolidate joint efforts in this field.