Days of culture of Romania are being held in Turkmenistan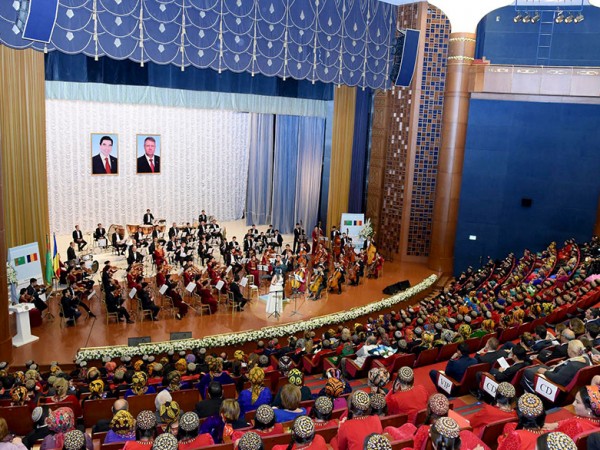 On November 29, 2017, the ceremonial opening of the Days of Romanian Culture in Turkmenistan was held at the Palace of Mukams of the State Cultural Center.
Representatives of creative intelligentsia, heads and representatives of diplomatic missions accredited in Turkmenistan, mass media, student youth took part in the official opening ceremony of the Days of Romanian Culture.
The State Secretary of the Ministry of Culture and National Identity of Romania, Alexander Oprian, greeted the participants of the celebration. Congratulating the audience on the opening of the Days of Culture, he stressed that the friendly relations that have developed between our countries allow us to successfully build up a mutually beneficial partnership designed to serve the well-being of the two peoples.
At the end of the solemn part, a concert was held with the participation of the soloist of the National Opera of Bucharest Irina Iordachescu and the State Symphony Orchestra of Turkmenistan.
In the foyer of the Mukams Palace, a photo exhibition was opened, representing the exhibits of the National Museum of Romanian History, which keeps artifacts from prehistoric times to modern times. The photographs show the exhibits of the Hall of the National Treasury: royal jewelry, owned by the last Romanian monarchs, jewelry related to the XIV century.
On the same day, during the reception of the official delegation of Romania in the Ministry of Culture of Turkmenistan, the prospects for implementing the Agreement on Cooperation between the Ministries of Culture of the two countries were discussed. The delegation of Romania was informed about the priorities of the foreign policy of the independent neutral Turkmen state, one of which is the development of international cooperation in the humanitarian field.
On November 30, the Museum of Fine Arts of Turkmenistan will host an exhibition of decorative and applied arts of Romania, and the works of Romanian filmmakers will be presented at the Ashgabat cinema center. The other events included in the program of cultural action will be fulfilled.