Turkmenistan and the Republic of Philippines held in Ashgabat political consultations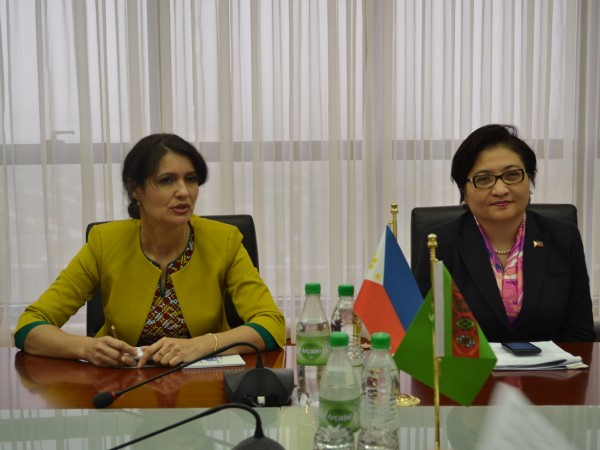 On November 30, 2017, Turkmenistan and the Republic of Philippines held political consultations at the Ministry of Foreign Affairs of Turkmenistan. The Philippin side was headed by the Director General of the Middle East and Africa Department of the Ministry of Foreign Affairs of the Republic of Philippines, Ms. Hjaysilin Quintana.
Speaking about the commitment of the parties to the expansion of friendly ties, which are built on the principles of trust and mutual respect, the parties discussed the possibilities of intensifying relations between Turkmenistan and the Philippines. During the consultations, Ms. Quintana noted the positive role of the neutrality policy of Turkmenistan and the similarity of the approaches of the two countries in the fight against terrorism and extremism. In this regard, proposals were expressed to further consolidate efforts to combat the challenges of the global agenda.
Touching upon the issues of boosting trade and economic relations, the sides expressed interest in developing cooperation in the fields of agriculture and food industry. Analyzing the current state of trade cooperation, the sides exchanged views on the import and export potential of the two countries. In addition, an exchange of views on improving the legal framework was held.
In the course of the political consultations, the sides considered the issues of building up bilateral cooperation in the cultural and humanitarian sphere, in particular in the fields of education, sports and tourism.