The next round of political consultations between Turkmenistan and Pakistan took place in Islamabad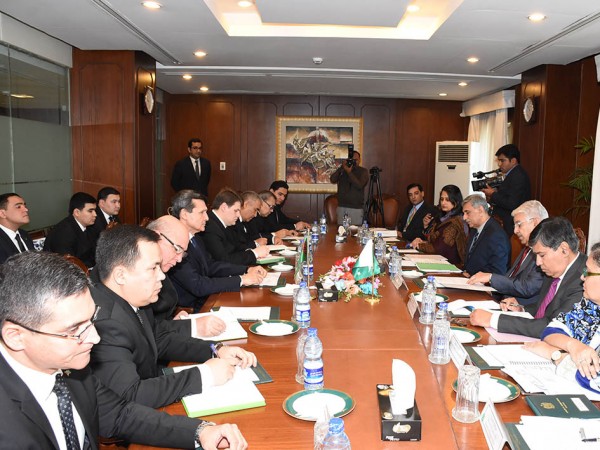 On 14-16 January 2018, a representative delegation led by Deputy Chairman of the Cabinet of Ministers, Minister of Foreign Affairs of Turkmenistan R. Meredov paid a two-day visit to Islamabad. On the morning of Monday, political consultations between Turkmenistan and the Islamic Republic of Pakistan at the level of the ministers of foreign affairs were held at the Foreign Ministry of Pakistan. The Pakistani delegation was led by the Minister of Foreign Affairs of the country Khawaja Muhammad Asif.
The agenda of the consultations included the development of interstate relations and the activities of the bilateral intergovernmental commission. A constructive exchange of views on international and regional issues took place, as well as on strengthening joint actions to counter modern challenges and threats. Particular attention was paid to the implementation of the construction of the Turkmenistan-Afghanistan-Pakistan-India gas pipeline and other important joint projects, in particular in the field of electric power and communication, transport and communication sector.
Speaking about the strategic importance of bilateral relations, the sides noted the role of visits at the highest level. Discussing the issues of political cooperation, an interest was expressed in further consolidation of relations within the framework of international organizations.
At the end of the bilateral political consultations, an Agreement was signed between the Government of Turkmenistan and the Government of the Islamic Republic of Pakistan on the abolition of visa requirements for the holders of diplomatic passports.
During the visit, the delegation of Turkmenistan held meetings with the President of the Islamic Republic of Pakistan Mamnun Hussein, the Prime Minister of Pakistan Shahid Hakkan Abbasi, the Deputy Chairman of the Planning Commission of Pakistan Sartaj Aziz and the State Minister of Oil of Pakistan Jam Kamal Khan.
During the meetings, topical issues of interstate cooperation in the political and trade - economic spheres were discussed, underscoring the mutual interest in the further development of the established productive dialogue.
Within the framework of the visit, bilateral meetings of representatives of the Turkmen delegation with leaders and representatives of state and private structures of Pakistan were held, at which the prospects of cooperation development and plans for further cooperation were outlined.