Turkmen-Korean seminar on cooperation in transport and logistics took place in Ashgabat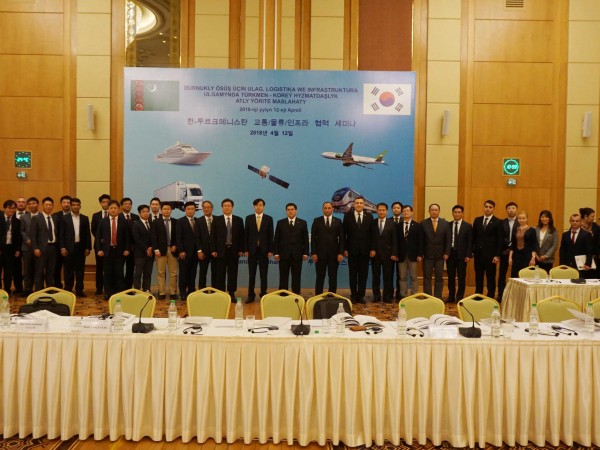 On April 12, 2018, a seminar "Cooperation in the field of transport, logistics and infrastructure for sustainable development" was held in Ashgabat. It was organized by the Ministry of Road Transport of Turkmenistan and the Embassy of the Republic of Korea in Turkmenistan.
Leading specialists of the ministries of road and rail transport, communications, construction and architecture, finance and economy, the State Customs Service, the State Concern "Türkmenawtoýollary", the Service "Türkmenhowaýollary", the State Service of Sea and River Transport, the Institute for Strategic Planning and Economic Development, The Turkmen Logistics Association attended the seminar.
Among the foreign participants of the seminar are representatives of leading universities and business circles of the Republic of Korea, including the Higher School of Logistics of the National University of Incheon, the Korean Transport Institute (KOTI), Taewoong Logistics, Pantos Logistics, KJ International, Evergreen Motors, Hyundai Corporation, LG International Corporation, POSCO DAEWOO Corporation, SK Holding and Hyundai Engineering.
Emphasizing the importance of the topic discussed during the current meeting, the speakers noted that cooperation in such promising areas as transport and logistics is an integral factor of positive integration processes in the context of the globalization of the world economy and universal sustainable development.
The presentations of the Turkmen side also noted that one of the key aspects of Turkmenistan's foreign policy strategy is the strengthening of fruitful relations with the states of the Asia-Pacific region, including with the Republic of Korea. And in this regard, interaction in the transport sector is one of the priority vectors for the development of Turkmen-Korean relations in the near future.
Within the framework of the seminar an interested exchange of views was held on the promotion of bilateral agreements reached earlier at various levels, a number of new proposals were voiced and concrete steps for their practical implementation were outlined.
Speaking about the significance of the meeting, the seminar participants noted that the implementation of mutually beneficial projects in this sphere will become a powerful impetus to further integration of the region's states in the global economic development processes, will promote investment inflow and effective cooperation in the interests of the countries and peoples of the continent.