The next round of political consultations between Turkmenistan and Finland took place in Helsinki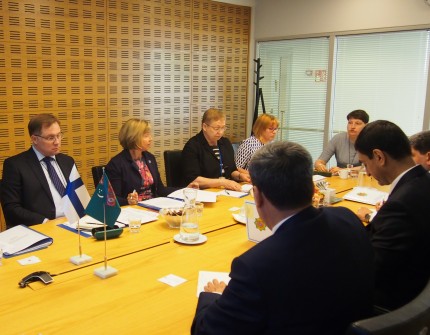 On May 29, 2018, political consultations took place in Helsinki between the Ministries of Foreign Affairs of Turkmenistan and the Republic of Finland. The Finnish side was headed by Ms. Maimo Henriksson, Director General of the Department of Russia, Eastern Europe and Central Asia of the Ministry of Foreign Affairs of this country.
During the political consultations, issues of bilateral relations in the spheres of politics, economy, energy and transport, cooperation within international organizations, in particular the UN and the EU were discussed. Taking into account Finland's chairmanship in the European Union later this year, the sides discussed Turkmenistan's developing cooperation with EU institutions and countries and put forward a number of proposals for diversifying relations and bringing them to a new level.
There was also an exchange of views on a number of regional issues and aspects of international security, among which were the issues of countering international challenges, disarmament in the region. The parties expressed the need to expand inter-parliamentary cooperation. The need was stressed to intensify activities to expand trade and economic cooperation by creating new mechanisms for cooperation.
At the end of the meeting, the sides reaffirmed their commitment to the lifting of bilateral ties to a higher level, which meets the long-term interests of the countries.
Also during the visit, the delegation of Turkmenistan held meetings with the State Secretary of the Finnish Foreign Ministry on political issues, Mr. S. Virtanen and the Deputy Secretary of State of the Ministry of Foreign Affairs of Finland on Foreign and Security Policy, Ms. A. Sipilainen.