The working visit of the delegation of Turkmenistan to Austria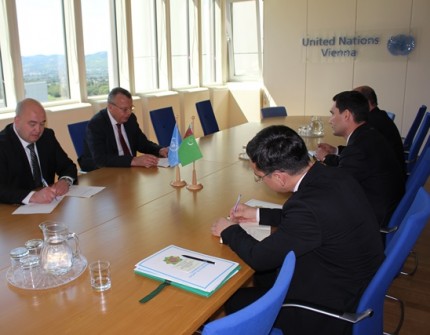 On July 2-3, 2018, the delegation of Turkmenistan, headed by the Deputy Minister of Foreign Affairs of Turkmenistan, S.G. Berdimuhamedov was on a working visit to Vienna, Austria.
Within the framework of this visit, the delegation of Turkmenistan had separate meetings with the UN Deputy Secretary General, the Executive Director of the United Nations Office on Drugs and Crime Yuri Fedotov, Director General of the International Atomic Energy Agency (IAEA) Yukiya Amano, the Executive Secretary of the Preparatory Commission for the Comprehensive Nuclear-Test-Ban Treaty Organization Lassina Zerbo, Secretary General of the Organization for Security and Cooperation in Europe (OSCE) Thomas Greminger and with Director-General of the United Nations Industrial Development Organization (UNIDO) Mr. Hiroshi Kuniyoshi.
During the talks with the heads of the above-mentioned international structures, issues of the subsequent strengthening of bilateral and multilateral relations in various areas of joint cooperation were considered. In particular, the sides discussed issues in such areas as technical cooperation, energy, combating illicit drug trafficking, crime, terrorism. There was also an exchange of views on ways of cooperation in the development of the private sector and agriculture.
A meeting with the Secretary General of the Federal Ministry for European Affairs, Integration and Foreign Affairs of Austria Johannes Peterlick was also held during the visit, at which the current state and prospects of bilateral relations in the political, trade-economic and cultural-humanitarian spheres were discussed. In addition, the sides considered issues of cooperation within the framework of international organizations, primarily the UN.