Meeting with UN Resident Coordinator in Turkmenistan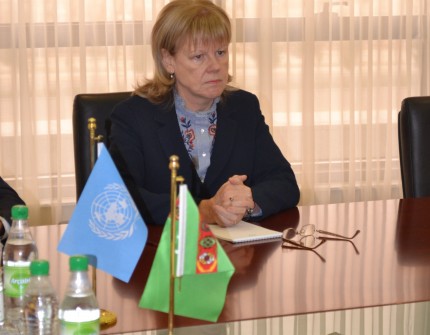 On the 20th of December 2016, a meeting was held with UN Resident Coordinator in Turkmenistan Ms. Jacinta Barrins completing her diplomatic mission in our country.
In the beginning of the meeting the representative of the authoritative international organization expressed her sincere gratitude to the Turkmen side for assistance and support provided to her during the years worked in Turkmenistan. Then in the framework of the meeting the sides exchanged their views on achievements attained and perspectives for further development of constructive dialogue. Stating the accomplishments of Turkmenistan in adaptation of Sustainable Development Goals, the sides discussed the issues on further consolidation of efforts in this sphere. The joint work in the field of human rights, ecology and energy saving was also discussed.
At the end of the meeting the Turkmen side thanked Ms. Jacinta Barrins for her input in the multilateral development of traditional cooperation between Turkmenistan and the UN and expressed to her wishes for further success.