A meeting with the regional director of UNICEF for Europe and Central Asia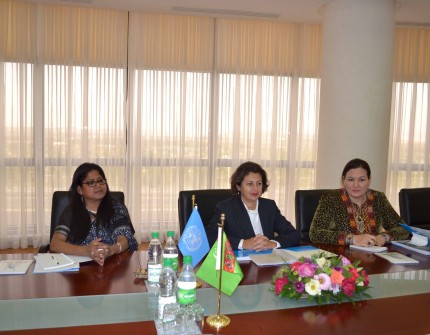 On November 5, 2018, at the Ministry of Foreign Affairs of Turkmenistan there was a meeting with the delegation that arrived in Ashgabat on a working visit led by the UNICEF Regional Director for Europe and Central Asia, a Special Coordinator for the Refugee and Migrant Response in Europe, Ms. Afshan Khan.
At the beginning of the meeting, the sides exchanged views on the results of joint work on the implementation of the action plan of the state program on cooperation between the Government of Turkmenistan and UNICEF for the period 2016-2020, and also reviewed the process of work in Turkmenistan to implement the sustainable development program until 2030.
It was noted that Turkmenistan supports the Organization's efforts to implement the Sustainable Development Goals in terms of maternal and child health, education, nutrition, and the protection of children's rights.
The participants of the meeting, taking into account the protection of children's rights, as well as the possible risks being removed from them, discussed the priorities for developing cooperation with relevant organizations dealing with the issues of regulating the harmful effects of computer technologies on people, especially the younger generation.