Lecture course on the Role of Women in Security and Development Process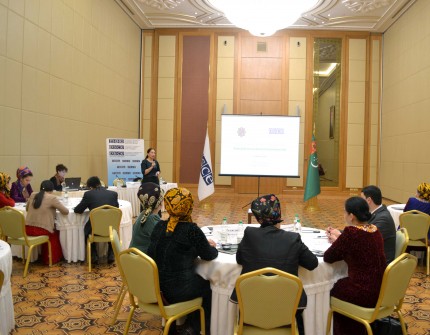 On December 3-5, 2018, Ashgabat hosted a course of lectures of Ambassador Mrs. Swanee Hunt for students and staff of the ministries and government agencies on the theme "The role of women in the security and development process", organized by the Organization for Security and Cooperation in Europe (OSCE). This course of lectures is devoted to the role of women in conflict resolution, gender stereotypes in matters of war and peace.
Speaking at the opening of this event at the International University for the Humanities and Development, Ambassador Natalia Drozd, Head of the OSCE Center in Ashgabat, noted that "Turkmenistan takes an active position in promoting gender equality, and in this regard the country has adopted the National Action Plan for Gender Equality in the country for 2015-2020. I am glad to highlight that women in Turkmenistan are actively involved in the preservation of peace and security".
On December 4, 2018, a lecture by Ambassador Mrs. Swanee Hunt was held at the Yildyz Hotel for employees of the ministries and public institutions, which was attended by employees of the Mejlis (Parliament), the Ministries of Justice, Foreign Affairs, Education, the Academy of Public Administration, the Institute of State, Law and Democracy, the Union of Women and the Youth Union of Turkmenistan named after Magtymguly.
During the lecture, participants familiarized themselves with topical security issues in the world, as well as with the role and opportunities of women in resolving various conflicts.