Turkmen-Korean political consultations were held in Ashgabat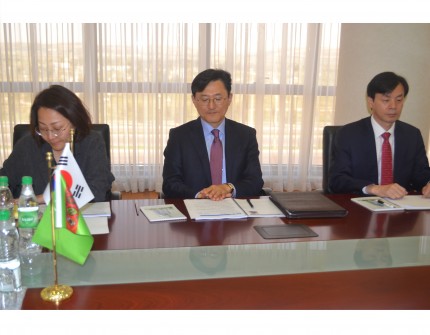 On the 13th of March 2019, Turkmen-Korean political consultations on the level of Deputy Ministers of Foreign Affairs of the two countries were held in the premises of the Ministry of Foreign Affairs of Turkmenistan. The delegation of the Republic of Korea was headed by the Deputy Minister of Foreign Affairs Mr.Yoon Soon-Gu who arrived to Ashgabat on a working visit.
At the beginning of the meeting, the parties exchanged greetings and noted the positive dynamics of the development of multilateral Turkmen-Korean relations. Underlining that he is in Turkmenistan for the first time, the guest noted the elegance of Turkmen capital.
Then, the parties noted the high level of relations existing between Turkmenistan and the Republic of Korea in political, trade-economic and cultural-humanitarian spheres. It was noted that mutual visits of the heads of states serve as the main factor in the development of bilateral relations. In this regard, Korean side stressed that the development of ties with Turkmenistan is one of the external policy priorities of the President of the Republic of Korea who is expecting to visit Turkmenistan in the following month. Particularly, the drafts of the documents to be signed in the framework of the visit were considered. Also organizational and protocol related issues of the upcoming visit were discussed.
Also in the process of negotiations, three priority courses of Turkmen diplomacy were noted on which the Republic of Korea wishes to cooperate actively. It is water, transport and energy diplomacy. The international initiatives of the President of Turkmenistan were noted in this context, as well as the readiness of Korean side to cooperate actively on these directions.
During the talks, the opportunities of further development of activities of Korean companies in Turkmenistan that already actively participate in the projects of construction and reconstruction of oil refinery and gas-chemical complexes in the country were also discussed. In this regard, the successful session of the Turkmen-Korean Intergovernmental Committee for trade, economic, scientific and technological cooperation was raised which was held in the beginning of the current year.
As to the cultural-humanitarian cooperation, the parties noted positive steps in this direction, particularly the preparatory work on introducing the educational programs on teaching Korean language in the middle schools of the country.
It is vital to note that during his visit, the Deputy Minister of Foreign Affairs of the Republic of Korea Mr.Yoon Soon-Gu was received by the Minister of Foreign Affairs of Turkmenistan. During the talks, the parties raised current issues of mutual interest.