International Conference "The Caspian Sea – a Sea of Opportunities" took place in Moscow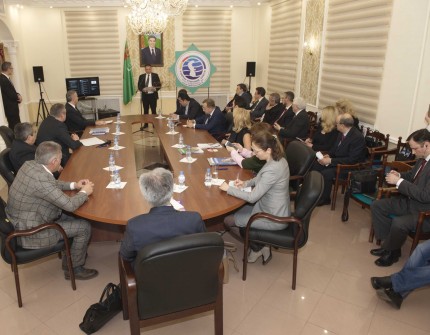 The International scientific-practical conference named "The Caspian Sea – a Sea of Opportunities" was held in the Embassy of Turkmenistan in the Russian Federation. The Conference that has brought together the representatives of the Russian business, professional and scientific societies, as well as the diplomatic corps accredited in Moscow, was dedicated to the First Caspian Economic Forum which will be held in Turkmenbashy city on the 12th of August this year.
The organizers of the Conference proposed to the participants to present their perception of the most actual subjects for the Caspian basin states on such spheres as economy and innovations, science, energy, transport, ecology, healthcare, tourism and culture. The discussions were characterized by the obvious interest of the representatives of Russian and a number of other foreign private and social organizations in the promotion of already arranged economic projects capable of activating the development of business processes in the Caspian region.
In their speeches, the participants stated the great significance of the initiatives of the President of Turkmenistan Gurbanguly Berdimuhamedov that are aimed at giving new strong impulses to the international business partnership in the basin of the Caspian Sea and adjacent territories in different fields. According to the speakers, the important component in this context becomes the fact that by building its long-term strategy on the Caspian, Turkmenistan already today possesses strong economic, transport-logistical and touristic base necessary for further development of wide multilateral cooperation in the region.
In the framework of the Conference, the video presentations of the official website of the First Caspian Economic Forum and the potential of the Turkmenistan's Caspian coastline were shown.