Working visit of the Minister of Foreign Affairs and Тrade of Hungary Péter Szijjártó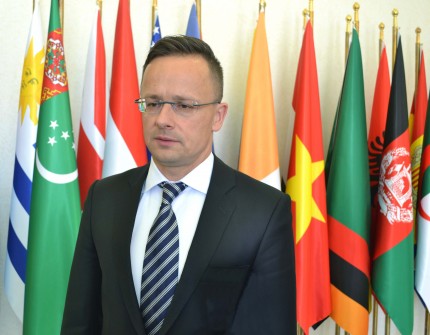 Minister of Foreign Affairs and foreign trade of Hungary Péter Szijjártó after meeting the MFA Turkmenistan, answered the questions of journalists:
Today you have met with President of Turkmenistan, what topics were given main attention? How do you assess the state of the relations between our countries?
- «Hungary considers Central Asia, and especially Turkmenistan as a very important country of the region from the viewpoint of the European security. At the meeting with the Turkmen leader, we have also discussed the cooperation in the field of energy. We are looking forward that gas resources of Turkmenistan will feed the common energy flow of Central Europe.»
- «We have also discussed economic cooperation, one of the forms of which, is manufacturing of pharmaceutical products, where Hungarian state-owned pharmaceutical companies are working productively and one of the largest firms in the European market.»
- «We have also considered the issues of regional policy. We respect a lot the role of Turkmenistan in strengthening of regional stability and security. We welcome the activities of Turkmenistan regarding the fighting terrorism and extremist ideologies. Contribution of Turkmenistan to stabilization of the situation in Afghanistan deserves special recognition.»
What areas of cooperation of Ashgabat and Budapest are most perspective in the aspect of integration?
- «We have considered them today at Ministry of Foreign Affairs of Turkmenistan, where we had fruitful and effective dialogue. For example, we discussed in details such regional initiatives, like Council of Turkic-speaking countries, where Hungary is observer. The "One belt, one road" initiative, where Hungary is an integrated partner.
Of course, the possibilities of enhancing bilateral economic cooperation were in the focus of attention. Hungary established credit line in amount of 46 million US dollars in one of the Hungarian banks to finance direct commercial ties and projects.»
- You have already told about energy cooperation that represents mutual interest. How other major directions of Turkmenistan's diplomacy – transport and water are expressed in the relations of our countries?
- «As concerns transport, we are currently working on drafts of two agreements in the field of civil aviation and road transportation, which will be stimulating the connectivity of two countries. We will continue negotiation of the issue of water management. The Hungarian technologies in this field are recognized as cutting edge and proved themselves on the internationally level.»
We know that water supply takes an important place in the policy of Turkmen state. We will continue supporting efficient activity of your country in this direction, including in terms of improvement of irrigation systems and management of water resources.