Presentation of Turkmenistan and ASIADA-2017 was held at the Kokugakuin University of Tokyo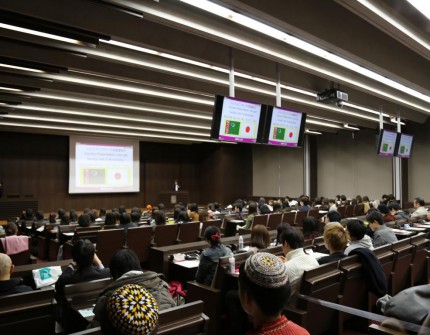 To commemorate the 250 days countdown before the start of the Asian Games-2017, the Embassy of Turkmenistan in Japan in collaboration with representatives of Kokugakuin University of Tokyo had organized on January 10, 2017 a presentation in the form of an extended meeting with students and professors of this and other universities of Japan. Ambassador of Turkmenistan to Japan G. Elyasov, representatives of the University, as well as former Charge d'Affairs of Japan in Turkmenistan Mitsuru Horiguchi delivered their speeches during the event. Speakers talked about Turkmenistan and large-scale preparations for the Asian Games-2017, which will certainly become an important event in the sporting life of Asia.
The presentation was preceded by the meeting between Ambassador of Turkmenistan and the Rector of Kokugakuin University Mr. Masuhisa Akai, during which both sides discussed cooperation in the field of education.
During the presentation, which was attended by more than 150 guests, a quiz about Turkmenistan has also been conducted. Winners received the gifts on behalf of the Embassy of Turkmenistan.
An exhibition of books, photos and items of folk and applied art of Turkmenistan has evoked great interest amongst participants.
At the end of the event, participants were offered to taste Turkmen national dishes prepared by the Embassy.