Educational course on the development of work with online mass media is being held in Ashgabat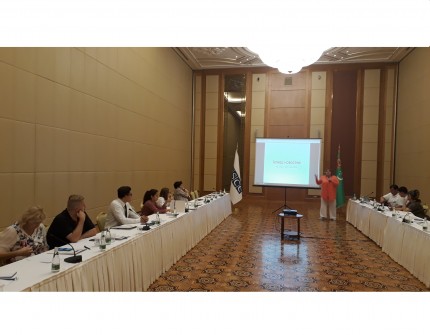 On the 10th of July 2019, an educational course on the development of work with online mass media has started in the "Yildiz" hotel of Ashgabat organized by the OSCE Centre in Ashgabat in assistance with the Ministry of Foreign Affairs of Turkmenistan.
The representatives of the State News Agency of Turkmenistan (TDH), State Committee of Turkmenistan for television, radiobroadcasting and cinematography, as well as the staff members of digital and printed mass media are participating in the course. The international experts from the Russian Federation and Belarus will share their knowledge and experience with the participants.
During the opening, the Head of the OSCE Centre in Ashgabat Mrs. Natalya Drozd noted the practicality and significance of the training session from the perspective of transition to the digital systems in Turkmenistan, including the perfection of journalistic work and development of various types of mass media. Particularly this course will contribute to the enhancement of expertise in the work of online media.
The training will continue till the 12th of July 2019.