Days of Culture of Turkmenistan opened in Turkey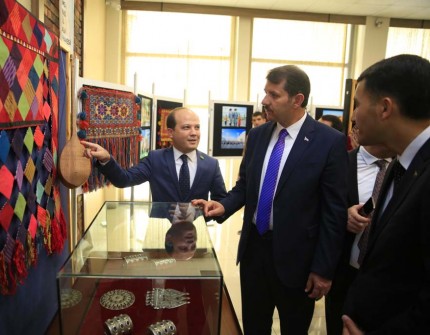 On July 10, 2019, the opening ceremony of the Days of Culture of Turkmenistan and a concert of art masters of our country took place in the city of Sivas, Republic of Turkey.
The celebration was attended by numerous cultural and art figures of the Republic of Turkey, historians, art historians and media workers.
Within the framework of the creative action, an exhibition of works of decorative art and museum valuables, supplemented by a photo exhibition, also began its work and a Turkmen film show was organized at the City Congress Center.
The library also hosted an exhibition of museum rarities, works of Turkmen fine and decorative arts, photographs and books.
In the cultural center of Sivas city named after Ataturk there was a concert of artists of our country. Famous performers, folklore and dance groups, folk performers in their performances sang about brotherly relations between the two countries, and also demonstrated a high level of national culture, which receives a powerful impetus to development as a result of the continued support of the President of Turkmenistan.
A feature film "At- myrat", dedicated to the Turkmen art of horse breeding, in particular the equestrian traditions, was shown as part of cultural events.
Days of culture of Turkmenistan in the Republic of Turkey continue.