A meeting with the Regional Representative of the UNODC was held at the MFA of Turkmenistan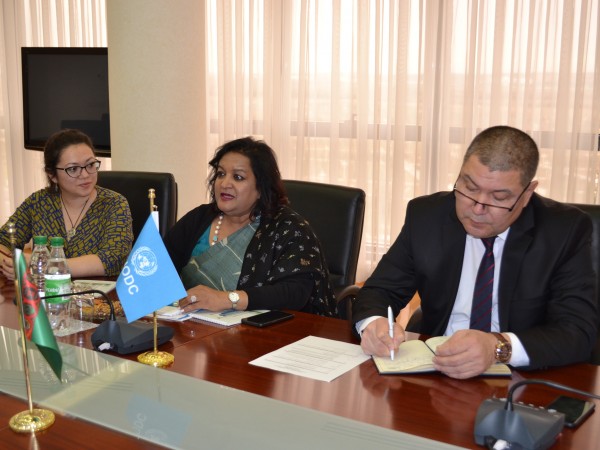 On January 13, 2020, the meeting of the Deputy Minister of Foreign Affairs of Turkmenistan with the Regional Representative for Central Asia of the United Nations Office on Drugs and Crime (UNODC) Ms. Ashita Mittal was held in the Ministry of Foreign Affairs of Turkmenistan.
At the beginning of the meeting, the Turkmen side thanked the UNODC Regional Representative for accepting an invitation to participate in the International conference "Turkmenistan and International Organizations: Cooperation for Peace and Development" dedicated to the 25th anniversary of the permanent Neutrality of Turkmenistan and the active participation of UNODC representatives in various international forums held in our country.
Then, during the meeting, the parties considered a number of issues on further cooperation of Turkmenistan with UNODC. Also, noting the effectiveness of bilateral cooperation, the possibility of holding various events by the joint efforts of the Government of Turkmenistan and UNODC was discussed.
Having highly appreciated the results of the work done by the Government of Turkmenistan in the field of drug control and crime prevention, an exchange of views took place on the further expansion of cooperation between Turkmenistan and UNODC.