Ambassador of the Republic of Cyprus in Turkmenistan presented the copies of the credentials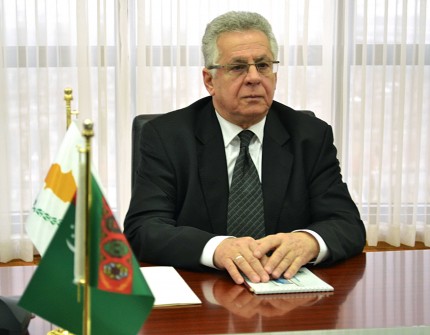 On January 21, 2020, the meeting was held at the Ministry of Foreign Affairs of Turkmenistan with the Ambassador Extraordinary and Plenipotentiary of the Republic of Cyprus in Turkmenistan (with residence in Moscow) Andreas Zenonos.
During the meeting, the parties discussed the current state of affairs of Turkmen-Cypriot relations in different areas of cooperation. It was stated that good potential exists for strengthening the ties in political-diplomatic, trade-economic and cultural-humanitarian fields. The parties underlined the necessity of developing the legal base of the cooperation to advance the bilateral relations.
The diplomats discussed the planned areas of collaboration for current year and stressed the significance of organizing mutual visits at different levels for the promotion of Turkmen-Cypriot cooperation. In this context, the importance of scheduled events related to the celebration of the 25th anniversary of the permanent neutrality status of Turkmenistan including the International Conference «Policy of neutrality and its importance in ensuring international peace, security and sustainable development», dedicated to the 25th anniversary of neutrality, which will be held on December 11-12, 2020 in Ashgabat in participation of foreign guests.
During the meeting, Ambassador Andreas Zenonos presented the copies of his credentials and expressed his gratitude for kind wishes extended to him.