The meeting of the Ministers of Foreign Affairs of Turkmenistan and Turkey was held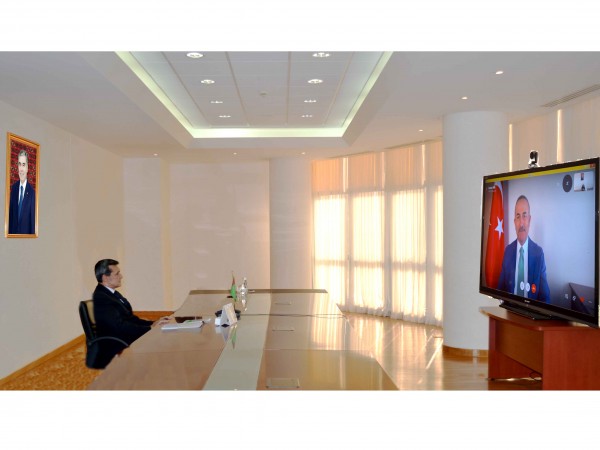 Today, on May 25, 2020, a meeting was held between Minister of Foreign Affairs of Turkmenistan Rashid Meredov and Minister of Foreign Affairs of the Republic of Turkey Mevlüt Çavuşoglu. Negotiations took place in a video conference format.
In development of the telephone conversation between the leaders of Turkmenistan and Turkey, Gurbanguly Berdimuhamedov and Reçep Taýyip Erdogan, held on May 24 this year, where instructions were given to the Foreign Ministries of the two countries to further develop relations, in particular to strengthen their transport-transit and trade-economic component, the parties agreed to step up interaction in priority areas.
During the meeting, the Ministers also noted the high level of interstate relations between the two fraternal peoples and outlined new priorities for mutual implementation in the near future, taking into account modern realities of the world order. In this context, diplomats emphasized the importance of comprehensive measures and joint efforts to counter the spread of the COVID-19 pandemic. At the same time, the willingness to use the experience and interaction potential available in the asset of bilateral relations was emphasized.
During the talks, diplomats also examined the interaction of the two countries on a wide range of issues in the political-diplomatic and trade-economic fields, taking into account the existing objective situations at the regional and world levels.
In this context, the importance of regular contacts at various levels, as well as the intensive resumption of meetings between the public and private sectors of the two states, in the initial stage in online format, was especially noted.