150 days until the Asian Games-2017 widely celebrated in Dubai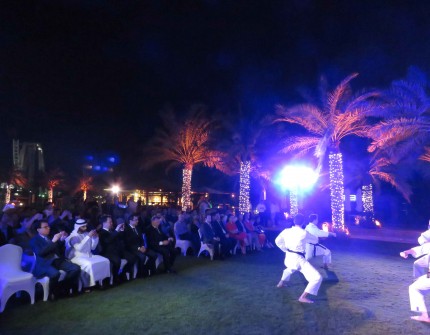 On April 20, 2017, a cultural event devoted to the remaining of 150 days on the countdown to the opening of the V Asian Indoor and Martial Arts Games in Turkmenistan, took place in Dubai.
The event was attended by the representatives of the diplomatic corps based in the UAE, representatives of the sports federations of the UAE, Turkmenistan nationals residing in the UAE, members of the Humanitarian Association of Turkmens of the World and local residents.
The event was organized by the Embassy of Turkmenistan in the UAE with the assistance of the Ministry of Culture and the State Committee of Turkmenistan for Sports, aimed to widely familiarize the world community with Turkmenistan's successes and achievements, as well as promotion of the Asian Games-2017.
The gala concert was held in the open air in the prestigious district of Dubai. The concert was started by a video presentation, which included comprehensive information on the upcoming Asian Games in Ashgabat.
Then the famous "Galkynysh" dance group performed with their famous compositions, Turkmen folk and modern songs performed by famous singers of Turkmenistan Zuleykha Kakaeva and Atadjan Berdyev.
The athletes of the national karate team of Turkmenistan, led by the President of the National Karate Federation Hangeldi Hodjaev, also entertained the spectators with their spectacular performances.