The round table, dedicated to the UN Climate Change Conference-2021 (COP26) was held in Ashgabat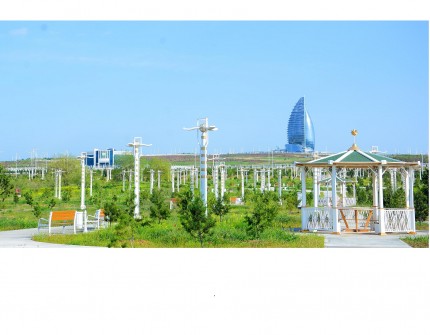 On March 17, 2021 the Ministry of Foreign Affairs of Turkmenistan with the assistance of the British Embassy in Turkmenistan organized the round table in the hotel "Yildyz" under the title "On the way to the UN Climate Change Conference-2021 (COP26): Turkmenistan's efforts to combat climate change and perspectives for the future".
The event, which was held in a hybrid format, was attended by the representatives of the relevant ministries and agencies of Turkmenistan, representatives of the British Government, diplomatic missions and representation offices of the international organizations accredited in the country, research institutions, development partners and donors.
The current round table, dedicated to the COP26 Conference, which will take place in November 2021 in Glasgow, Great Britain, has become a peculiar platform on the level of experts for generation of ideas and directions of international cooperation, especially in the field of reduction of greenhouse gas emissions and the transition to low-carbon and renewable energy sources.
During the event it was demonstrated the efforts of Turkmenistan to tackle climate change problems and commitment of the country to the fulfillment of its obligations within the framework of the global climate agreements, reflecting the current work, which is being done in the country, as well as the plans for the future.