The Minister of Foreign Affairs of Turkmenistan took part in the Ministerial meeting in "C5+1" format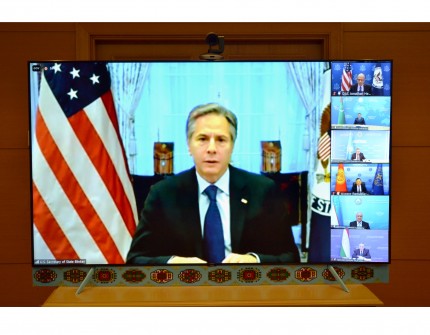 Today, on the 23rd of April, an online meeting of the heads of external policy agencies of the states of Central Asia and the United States of America in "C5+1" format was held, during which a comprehensive exchange of views took place on the current issues of cooperation between the countries of the region and the USA.
In his speech at the videoconference, the Minister of Foreign Affairs of Turkmenistan R.Meredov noted the constructive approach of all the parties taking part in the work of "C5+1" format towards the development of partnership in political-diplomatic, trade-economic, ecological and other spheres.
Special attention was paid to the problems of the climate change and nature protection.
In this regard, the concrete initiatives and proposals of the Turkmen side were voiced aimed at the expansion of collaboration of the Central Asian countries with the United States in the mentioned spheres.
In particular, the necessity of establishing the Regional Centre on Technologies related to the Climate Change was underlined. It was also proposed to consider the option of creating the scientific-ecological clusters. At the same time, it was noted that it would be appropriate to organize a series of educational trainings in participation of American experts as the first step in the given direction.
Turkmen Foreign Minister thoroughly elaborated on the Aral Sea problems by noting the necessity of intensifying the work on the preparation of the United Nations Special Programme for the Aral Sea basin initiated by the President of Turkmenistan.
In addition, the water issues were raised. In this regard, the firm position of Turkmenistan was voiced which proclaims that the water related matters in Central Asia should be resolved on the basis of generally accepted norms of the international law taking into account the interests of all the countries of the region and in participation of international organizations.
The parties agreed on the need to continue regular and systematic dialogue in the "C5+1" format attaching to it a practical scope.