A meeting with the Minister of Foreign Affairs of Uzbekistan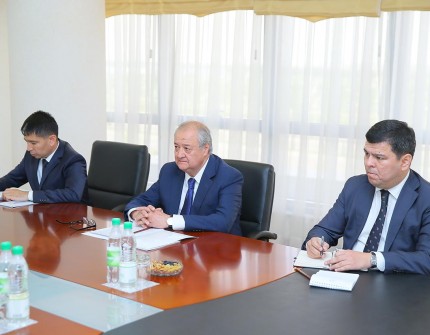 On April 30, 2017, in Ashgabat, the Minister of Foreign Affairs of Turkmenistan R.Meredov met with the Minister of Foreign Affairs of the Republic of Uzbekistan A.Kamilov who arrived in Turkmenistan to participate in the 6th Foreign Ministers meeting of the Dialogue "CA + Japan".
During the conversation, the parties discussed issues of further development of bilateral relations within the framework of the agreements reached during the state visit of the President of Uzbekistan to Turkmenistan on March 6-7, 2017 and top-level talks.
As it was stressed, thanks to the political will of the leadership of the two countries, interstate relations have reached a qualitatively new level today, which allowed to activate mutually beneficial cooperation in the political, trade-economic, investment, transport-communication, cultural, humanitarian and other spheres, deepen cooperation within international and regional organizations, including the International Fund for Saving the Aral Sea, where Turkmenistan currently holds the presidency.