A meeting with the delegation of the Ministry of Foreign Affairs of Japan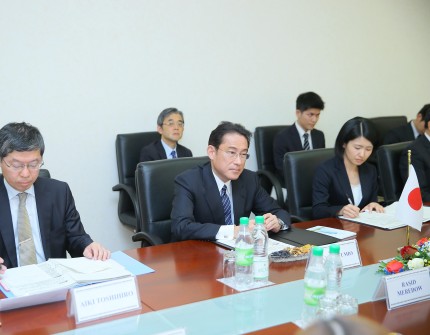 On April 30, 2017 in Ashgabat, the delegations of the Foreign Ministries of Turkmenistan and Japan, headed by the Ministers of Foreign Affairs of the two countries R.Meredov and F.Kishida, held talks.
During the meeting, the heads of the delegations noted the dynamic nature of the political cooperation between Turkmenistan and Japan, as well as active contacts in the sphere of trade and economy, the guarantee of which is a successful dialogue established between the leaders of the two states. The need was expressed for further consolidation of efforts to further expand the spheres of cooperation by activating regular contacts at various levels between representatives of the foreign affairs agencies of both states. Noting the strategic nature of cooperation between the countries based on the principles of mutual respect, the parties discussed issues of cooperation within the framework of international organizations.
In addition, an exchange of views took place on the implementation of agreements reached at a high level. The parties expressed interest in further intensifying cooperation in such areas as culture, science and education. Noting the role of interaction within the framework of the "Central Asia + Japan" dialogue, the parties discussed the opportunities for intensifying regional cooperation with Japan.