Meeting with the newly appointed Ambassador Extraordinary and Plenipotentiary of Kyrgyzstan to Turkmenistan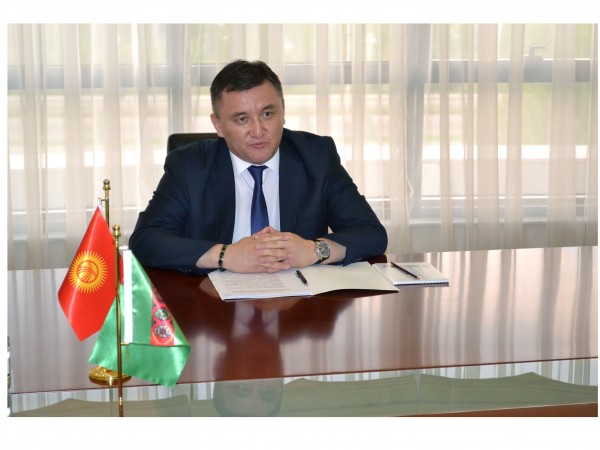 On June 25, 2021, the Minister of Foreign Affairs of Turkmenistan Rashid Meredov met with the newly appointed Ambassador Extraordinary and Plenipotentiary of the Kyrgyz Republic to Turkmenistan Talant Sultanov.
Having expressed gratitude to the Turkmen side for warm greetings and wishes of success at the new post, Ambassador Talant Sultanov noted that he is going to make his utmost efforts for the strengthening of Turkmen-Kyrgyz relations.
The diplomats noted with content the positive pace of development of the whole complex of bilateral relations, including the political and diplomatic vector, as well as the trade-economic and cultural-humanitarian ties.
During the meeting, the parties indicated the constructive nature of the partnership of Turkmenistan with the Kyrgyz Republic in the framework of international organizations, in particular the UN, OSCE, ECO, CIS. The substantial growth of trade relations between the two countries was underlined.
It was stated that the Ambassador of Kyrgyzstan to Turkmenistan starts his mission in the country in a momentous period. As the official visit of the President of the Kyrgyz Republic Sadyr Japarov to Turkmenistan should take place in the coming days.
The parties expressed assuredness in that the visit of the Head of Kyrgyzstan to Ashgabat is expected to make a valuable contribution to the development of the whole range of relations between the two countries. During the visit, the talks with the President of Turkmenistan Gurbanguly Berdimuhamedov are planned to be held, as well as more than ten of interstate and intergovernmental documents signed.
In the framework of the meeting, Ambassador Talant Sultanov presented the copies of his credentials to the Turkmen side.