Meeting with the Ambassador of the State of Qatar to Turkmenistan whose mission in the country is completing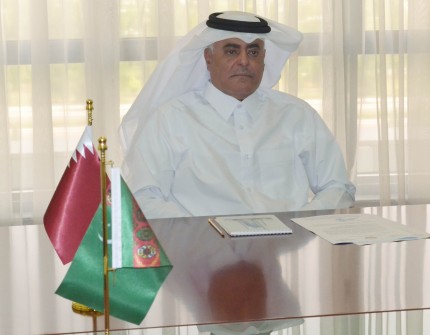 On the 29th of July 2021, a meeting was held in the MFA of Turkmenistan between the Deputy Minister of Foreign Affairs of Turkmenistan Berdiniyaz Myatiyev and the Ambassador Extraordinary and Plenipotentiary of the State of Qatar to Turkmenistan Mubarak bin Abdurrahman Al Nasr who is completing his mission in the country.
During the meeting, the parties reiterated the commitment of two countries to further development of bilateral ties in political, trade-economic and cultural-humanitarian spheres.
The diplomats underlined the importance of organizing the visits on the high and the highest levels for the advancement of interstate relations. The necessity of maintaining joint work on the enhancement of legal basis of cooperation was indicated.
The possibilities of organizing the visit of the head of external policy agency of the State of Qatar to Turkmenistan were considered. The sides spoke for the continuation of positive collaboration in the framework of international organizations, primarily the United Nations.
During the talk, the interest in promoting the trade-economic ties was voiced. In this context, the role of the Joint Intergovernmental Turkmen-Qatari Commission on Trade-Economic Cooperation was noted, the active preparations to the next session of which were carried out on the interdepartmental level of two states.
The diplomats also confirmed the intent of the two countries to strengthen further the cultural and humanitarian ties.
During the meeting, the Turkmen side expressed gratitude to Ambassador Mubarak bin Abdurrahman Al Nasr for the efforts directed at the development of Turkmen-Qatari relations and wished him further successes.