The 20th Joint Committee meeting "Turkmenistan – European Union" was held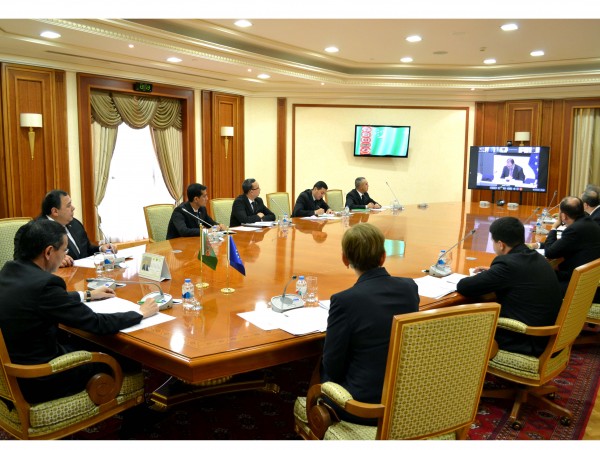 On October 21, 2021, the 20th Joint Committee meeting "Turkmenistan – European Union" was held in videoconferencing format.
The Turkmen side at the meeting was represented by the heads and representatives of the Ministries of Finance and Economy, Foreign Affairs, Education, Agriculture and Environment Protection, Energy, Labor and Social Security, Trade and Foreign Economic Relations, Health Protection and Medical Industry, Institute of State, Law and Democracy, State Concerns "Turkmenneft" and "Turkmengaz" and some other agencies.
On the EU side, the meeting was attended by representatives of the European External Action Service (EEAS) led by Luc Devigne, Director for Russia, Eastern partnership, Central Asia and OSCE of EEAS.
Having noted the high level of interaction, the sides discussed the broad range of issues concerning development and strengthening of cooperation between Turkmenistan and the European Union.
The need of further intensification of political-diplomatic dialogue and inter-parliamentary ties, as well as trade and economic interaction was underlined.
The regular character of contacts in bilateral and multilateral formats, in particular the Joint Committee, Inter-parliamentary dialogue, Human rights dialogue, Consultative meetings between the foreign affairs agencies and on separate issues of cooperation, as well as interaction in "Central Asia – European Union" format was stated.
Opportunities for activation of cooperation in the fields of trade, energy, transport, communications and high technologies were discussed. In this regard, the need of increase in turnover and development of partnership between business structures of Turkmenistan and EU countries was underlined.
The sides also considered joint programs and projects in the spheres of ecology, agriculture, education and health protection.