The delegation of Turkmenistan took part in the Ministerial meeting of the "India-Central Asia dialogue"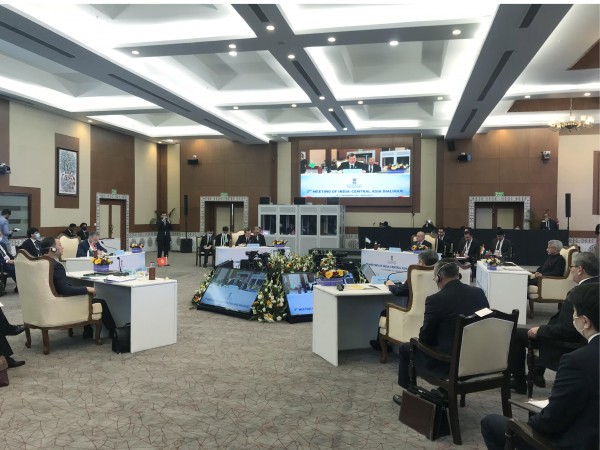 Today, on December 19, the delegation headed by the Deputy Chairman of the Cabinet of Ministers of Turkmenistan, Minister of Foreign Affairs of Turkmenistan Rashid Meredov took part in the Third Ministerial Meeting of the India-Central Asia Dialogue held in New Delhi (India). The meeting was attended by the Ministers of Foreign Affairs of the Republic of India, Republic of Kazakhstan, Kyrgyz Republic, Republic of Tajikistan, Turkmenistan and Republic of Uzbekistan.
During the meeting, the role of dialogue between India and Central Asian countries as an effective platform for strengthening multifaceted cooperation and exchange of views on various regional and international issues of mutual interest was commended. It was emphasized that this format of cooperation between the countries contributes to regional peace, security, stability, sustainable economic growth, as well as prosperity in the region.
Head of the Ministry of Foreign Affairs of Turkmenistan R.Meredov noted the consistent development of cooperation between the states of Central Asia and India in the political and diplomatic, trade and economic, cultural and humanitarian spheres. The Minister also noted that there is great potential for cooperation, especially in such sectors as pharmaceuticals, information technology, agriculture, energy, textile industry, etc.
The Ministers exchanged views on the situation in Afghanistan and reaffirmed support for the peaceful, secure and stable development of the country, while emphasizing respect for its sovereignty, unity and territorial integrity and non-interference in its internal affairs.
During the forum, mutual interest was expressed in cooperation in education and science, health and medicine. The issues of preventing the spread of COVID-19 were discussed, and the need for continued joint action to combat the coronavirus pandemic and its consequences was noted.
A special emphasis was made on the centuries-old cultural and civilizational ties between India and Central Asian countries and the importance of developing cooperation in the cultural and humanitarian sphere was emphasized to further intensify contacts between the peoples.