Briefing by the Permanent Mission of Turkmenistan in Geneva on the country's foreign policy priorities for 2022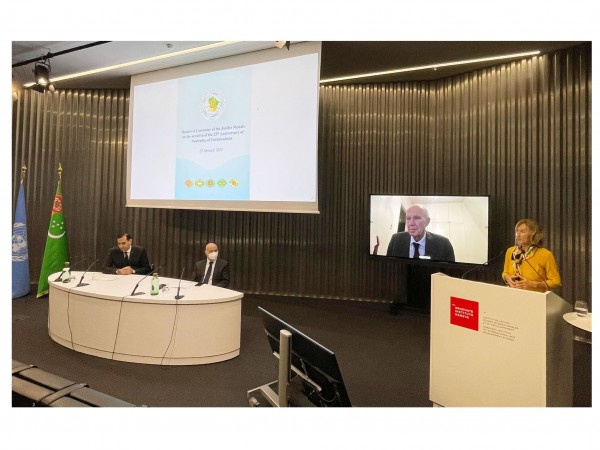 On January 25, 2022, in the building of the Graduate Institute of International and Development Studies of Geneva (Swiss Confederation), the Permanent Mission of Turkmenistan to the UN Office in Geneva held a briefing on the priorities and commitments of Turkmenistan's foreign policy for 2022 and beyond.
This event was held as part of the voiced initiative of the President of Turkmenistan Gurbanguly Berdimuhamedov "Dialogue is a Guarantee of Peace", as well as in commemoration of the country's motto in 2022 "The Epoch of the people with Arkadag".
Heads and representatives of diplomatic missions and international organizations accredited in Geneva attended the briefing.
During the briefing, the main attention was paid to the results of 2021 - the International Year of Peace and Trust, as well as the largest international events held in Turkmenistan, which became an important stage in promoting regional and international partnership.
The promotion of the Global Initiative of Turkmenistan "Dialogue is a Guarantee of Peace" is aimed at combining the efforts of the international community in strengthening the traditions of peaceful and trusting coexistence of the peoples of the world, restoring values, worldviews, the comprehensive formation of a culture of peace and trust in international relations.
It was emphasized that the motto of Turkmenistan in 2022 is a confirmation of the determination of the Turkmen people to continue the strategic course of transformation aimed at fulfilling all the tasks and instructions of the President of Turkmenistan.
The briefing participants were also familiarized with the priority positions of Turkmenistan, voiced during the speech of the President of Turkmenistan at the 76th session of the UN General Assembly.
At the end of the event, the ceremony of presenting the commemorative medals of Turkmenistan "To the 25th anniversary of the Neutrality of Turkmenistan" to the UN Deputy Secretary General, Executive Secretary of the UN Economic Commission for Europe Ms. O. Algayerova and the former Director General of the World Intellectual Property Organization (WIPO) Mr. Francis Gurry took place.