International Energy Charter Forum under the title: "Towards a multilateral framework agreement on transit of energy resources" started its work in Ashgabat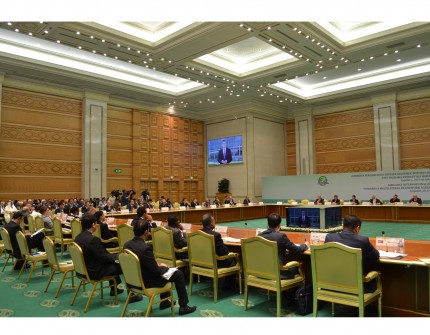 On May 30, 2017, International Energy Charter Forum started its work in Ashgabat under the chairmanship of Turkmenistan in the Energy Charter Conference in 2017. The forum is titled: "Towards a multilateral framework agreement on transit of energy resources" to stimulate meaningful discussions on the role of transit in global energy security and sustainable development.
Representatives of relevant ministries and departments, representatives of international organizations, industrial sector and scientific institutions, as well as numerous representatives of the mass media take part in the work of the Forum. Heads of diplomatic missions accredited to our country, as well as journalists accredited in Turkmenistan were also invited to the opening ceremony.
At the opening of the Forum, the Chairman of the Energy Charter Conference, Deputy Chairman of the Cabinet of Ministers of Turkmenistan M. Babaev and Secretary General of the International Energy Charter Urban Rusnak made a welcoming speech.
Then the forum continued its work in main sessions. The sessions titled "Natural gas markets: cross-border transport and transit", "Increasing Role of liquefied natural gas (LNG) in global energy security", "Deliveries of oil to world markets" took place here.
The Forum participants discussed the practical, regulatory and legal aspects of energy transit, exchanged views on topical issues of energy security and reaffirmed the desire to contribute to strengthening the reliability and stability of energy transit. In this context, the need for coordination of efforts and interaction between producer countries, transit countries and energy consumers was emphasized.
On May 31, 2017 in the first half of the day the International Energy Charter Forum will continue its work. In the afternoon, an international energy media forum will be held with the participation of representatives of the media.