"Structural dialogue" between the foreign policy agencies of Turkmenistan and Great Britain has begun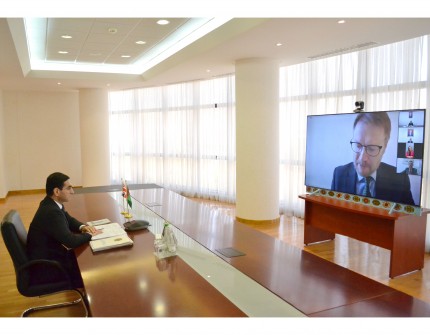 On February 24, 2022, the "Structural Dialogue" between the Ministries of Foreign Affairs of Turkmenistan and the United Kingdom began in the format of videoconferencing.
The Deputy Minister of Foreign Affairs of Turkmenistan Vepa Hajiyev headed the Turkmen delegation, the British delegation was headed by the Director of the Department of Eastern Europe and Central Asia of the British Foreign and Commonwealth Office Justin McKenzie.
The diplomats exchanged views on a wide range of issues on the bilateral agenda, and touched upon topical issues of regional and international cooperation.
The need for further expansion and strengthening of effective cooperation between the two countries in the international arena, in particular within the UN and others was underlined. The importance of mutual support for international undertakings and initiatives within the framework of authoritative regional and international platforms was emphasized here.
The parties noted with satisfaction that this year marks the 30th anniversary of the establishment of diplomatic relations between Turkmenistan and the UK, and in this regard, it was proposed to hold a number of events dedicated to this date.
The intensification of contacts between the Foreign Ministries, dialogue between the relevant departments of the two countries also became a separate topic of discussion.
The parties exchanged views on the positions of the two countries regarding the politics and economy of Afghanistan, and discussed issues of cooperation in the fight against terrorism.
In addition, the sides discussed the possibilities of expanding cooperation in the field of "green economy", and gave an overview of the current state of the relations in the field of trade. In this context, the need to intensify further steps to increase the volume of mutual trade using the solid potential of the Turkmen-UK Trade and Industry Council (TUKTIC) was emphasized.
The diplomats also considered issues related to the current epidemiological situation and expressed the need to intensify bilateral contacts, taking into account post-pandemic circumstances.
Tomorrow, on February 25, "Structural Dialogue" between the Ministries of Foreign Affairs of Turkmenistan and the UK will continue its work.