The Minister of Foreign Affairs of Turkmenistan had a meeting with the representative of Electoral Assistance Division of the UN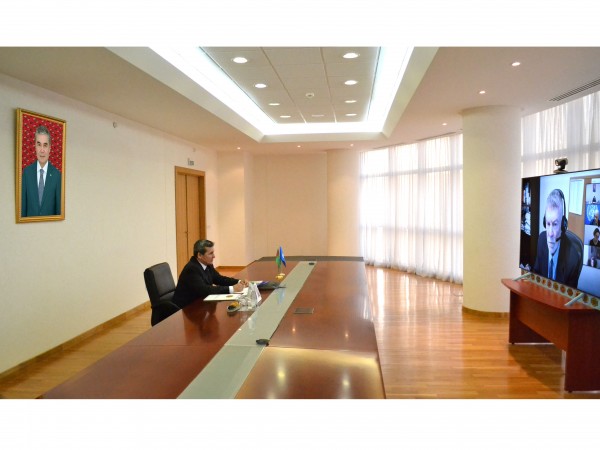 On February 24, 2022, the Minister of Foreign Affairs of Turkmenistan Rashid Meredov had an online meeting with the Director of the Electoral Assistance Division of the Department of Political and Peacebuilding Affairs of the United Nations Secretariat Craig Jenness.
During the talk in the videoconferencing format, the parties gave a high rating to the strategic partnership of Turkmenistan with the UN and its specialized agencies. In this context, the sides exchanged views on important international and regional issues.
Within the framework of the meeting, the Turkmen side briefed C.Jenness about the preparations to the elections of the President of Turkmenistan that will be held on March 12of the current year and discussed the prospects of joint work in the frame of the preparations to the forthcoming elections.
The huge experience of this UN structure in providing expert assistance, conducting needs assessment missions, as well as electoral observation in different parts of the world.
In this connection, the Turkmen side was presented the latest experience of the Division activities, in particular, introduction of advanced technologies and innovation decisions during preparation and conduct of elections.
During the conversation, the prospects for building multi-stakeholder partnership in this sphere with other international organizations, in particular, in Turkmenistan-UN-OSCE format.
In this regard, it was said that from February 25, 2022, the Turkmen side in collaboration with the OSCE Center in Ashgabat starts a series of seminars and trainings for the representatives of the Central Election Commission of Turkmenistan and other government agencies on advanced practice of conducting election process. The Minister invited interested representatives of the UN system, particularly this Division to take part in these events.
The Minister of Foreign Affairs of Turkmenistan emphasized the need for building lasting systemic connections between the relevant departments of Turkmenistan and the Electoral Assistance Division in the long term.